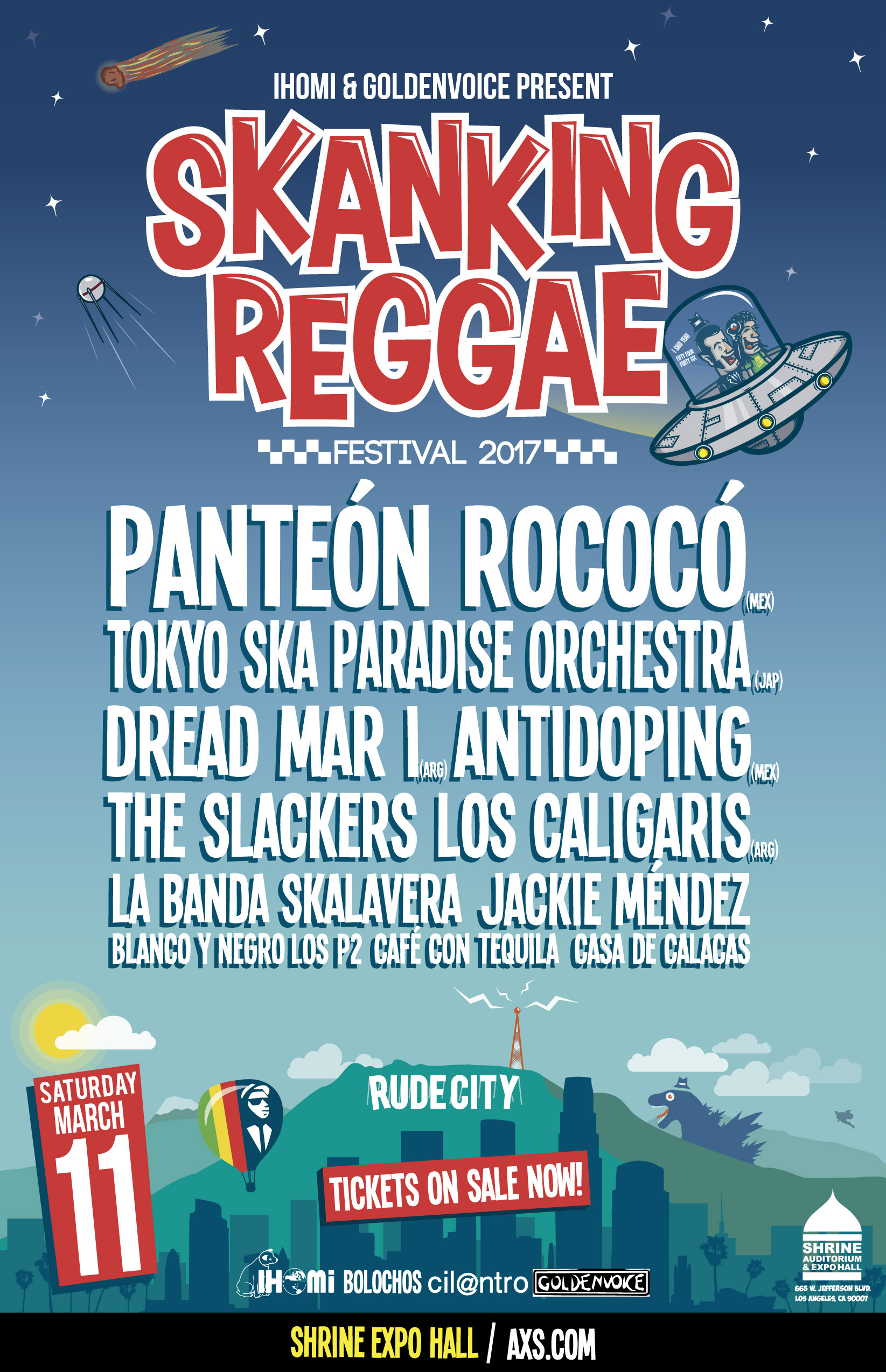 Latino ska bands Panteón Rococó and Antidoping were scheduled to perform at the L.A. Skanking Reggae Fest this year. However the day before the festival both bands announced that they were not going to be able to attend due to "difficulties in renewing their visas."
On Panteón Rococó's official Facebook page they posted the following message:
EL FESTIVAL ANUAL SKANKING REGGAE FEST ANUNCIA LA SUSTITUCION DE LAS BANDAS PANTEON ROCOCO Y ANTIDOPING DEBIDO A LAS SERIAS DIFICULTADES
PARA OBTENER LA RENOVACION DE SUS VISAS
MASKATESTA Y RASKAHUELE
TOMAN EL LUGAR Y PROMETEN UN GRAN CONCIERTO.
"A pesar de las circunstancias, el show debe continuar y se lo debemos a los fans que cada año asisten al Skanking Reggae Fest", menciona Adrian Gonzalez de iHomi, promotor y fundador del festival y quien anunció oficialmente junto a Goldenvoice que la banda Maskatesta y Raskahuele tomarán el lugar de Panteón Rococó y Antidoping este próximo sábado 11 de Marzo en el Shrine Expo Hall .
Y es que por primera vez en los 20 años de carrera y giras a los EEUU de la banda mexicana, la renovación de las visas de trabajo para ingresar como artista a los EEUU han tomando en esta ocasión más tiempo de lo acostumbrado debido a las nuevas normas migratorias. Este es el caso también de Antidoping, quienes desde la firma de su contrato con el festival, iniciaron el trámite de renovación de visas de artista y siguen pendientes de aprobación.
Maskatesta, una de las bandas mexicanas que gozan de mas popularidad actualmente, se agregan al cartel del festival, asi como el grupo Raskahuele, incluída entre las 10 bandas más talentosas de California en la actualidad, según la publicación Al Borde y quienes se encuentran grabando lo que será el nuevo y esperado álbum del grupo.
Más allá de lamentarse por las noticias, el Festival continuará con el resto de las bandas anunciadas provenientes de Sudamérica, Japón y EEUU que incluye Tokyo Ska Paradise Orchestra, Dread Mar I, Los Caligaris, The Slackers, Jackie Mendez y La Banda Skalavera, quienes tienen cita en el histórico Shrine Expo Hall de Los Angeles este próximo Sábado 11 de Marzo.
El creciente y exitoso festival que dio comienzo 7 años atrás con la idea de solidificar la escena de ska Latino en este país ha mostrado que está mas viva que nunca, reflejando la misma diversidad que el género y sus fusiones tiene. A lo largo de las 6 ediciones previas, dozenas de grupos de ska-punk-reggae de diversos países, no solo de Latinoamérica, se han presentado en este popular festival que reunió cerca de 5000 asistentes el pasado año.
Boletos GA en $50.00 están ya a la venta la venta vía AXS.com , en la taquilla del Shrine Auditorium Expo Hall y en la tienda Bolochos en Los Angeles (303 W. 8th St. Los Angeles Ca. 90014 -Tel. 213 595-5977). Boletos en paquete Experiencia VIP Skallywood estarán disponibles a $100.00
Para próximas noticias y actualizaciones sobre el festival, sigue Skanking Reggae Fest on Facebook https://www.facebook.com/Skanking-Reggae-Festival
On Skanking Reggae Fest's official Youtube channel they posted the following video which can be viewed below:
As expected fans were visibly upset about this as many tried selling their tickets to other fans. I've seen Panteón Rococó once and can understand the hype in seeing this band. The festival went on as planned though but without these two bands.
If you attended the festival what was your experience? Were you deeply disappointed that these two bands didn't perform? Feel free to leave to comments below!